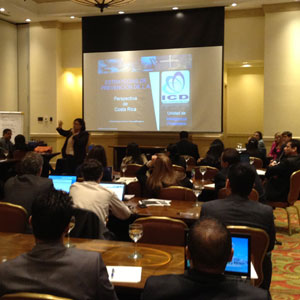 During the last month of 2013 and the first quarter of 2014, the World Bank, jointly with the Caribbean Financial Action Task Force (CFATF) and with the support of the Cooperating and Supporting Nations (COSUNs), has been providing training on the importance and fundamentals of the National Risk Assessment, through targeted Workshops.

The National Risk Assessment pertains to a country's obligation to identify, assess and effectively mitigate ML/TF risks and to the use resources in the most efficient manner, as established by Financial Action Task Force (FATF) Recommendation 1. Workshops are designed to provide participants, from a wide variety of government agencies, a framework of basic elements, processes and discussions required for their own National Risk Assessment as countries prepare for the Fourth Round of Mutual Evaluations.

Two National Risk Assessment Workshops have been delivered so far; the first one was held in the British Virgin Islands, for CFATF Countries, hosted by the Financial Services Commission, the second, in Tegucigalpa, Honduras, for CFATF and GAFISUD countries, hosted by the National Banks and Insurance Commission. Both entities were magnificent hosts, our thanks to them.
These workshops brought together ninety three (93) country representatives, from over twenty (20) different countries, including Antigua and Barbuda, Argentina, Barbados, Cayman Islands, Costa Rica, Dominica, El Salvador, Ecuador, Guatemala, Honduras, Jamaica, Nicaragua, Panama, St. Lucia, St. Kitts and Nevis, The Bahamas, Trinidad and Tobago, Turks and Caicos, and the Virgin Islands.