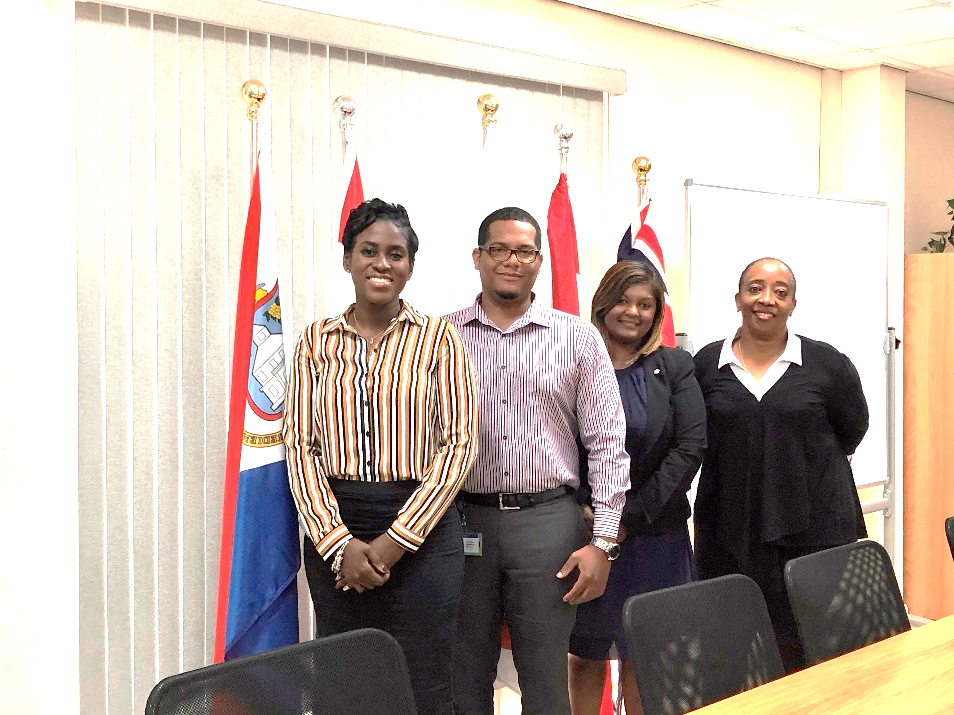 Pictured above, from the right is Ms. Ligia Stella, Director, Sint Maarten FIU. Second on the right is Ms. Glenda Leben, CFATF's Supervision Advisor together with DNFBP Supervision staff.
The Supervision Project fully funded by the Co-operating and Supporting Nations, namely the Governments of Canada and the United Kingdom of Great Britain and Northern Ireland continues to provide support to Caribbean Financial Action Task Force Members. One way in which direct support is offered, is through the training of Anti-Money Laundering/Counter Financing of Terrorism (AML/CFT) Supervision staff to help with building capacity in an effort to enhance supervision activities. 
As a result, the second training event was delivered to the Sint Maarten's Financial Intelligence Unit (FIU), which is the AML/CFT Supervisor for Designated Non-Financial Businesses and Professions (DNFBPs). With new staff in the Supervision Department, Director of the FIU, Ms. Ligia Stella, identified the need to strengthen the capacity of team members to effectively monitor, regulate and supervise DNFBPs for compliance with AML/CFT requirements commensurate with their risks.
During the period March 11-13, 2020, focused training was provided to the team who participated in practical sessions and benefitted from one-on-one interaction, geared towards promoting a clearer understanding of the requirements of Immediate Outcome 3 – Supervision. While the region together with the world deals with the pandemic that is COVID-19, offsite and online support remains available to Members in relation to the Supervision Project.
For further information and details, please contact the Supervision Advisor, Ms. Glenda Leben at glenda.leben@cfatf.org or cfatf@cfatf.org.