Office of the Attorney General calls for anti-money laundering laws to be amended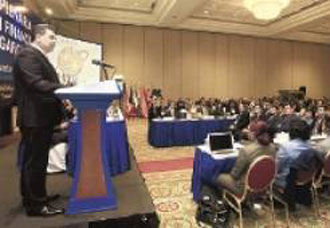 The 35th Plenary of the CFATF was opened in the country yesterday
Written by Suchit Chávez
Friday 25 May 2012

Amending the laws against acts of terrorism and against money and asset laundering, or the creation of a law to govern the sending of remittances and financial transfers, were among the requests made yesterday by the Attorney General of the Republic, Romeo Barahona, to the members of the Legislative Assembly.
The Attorney General made the statement at the opening of the 35th Plenary Meeting of the Caribbean Financial Action Task Force (CFATF), which began its round of sessions on Monday.
Barahona did not provide concrete details on the legal reforms which, in his opinion, are essential in order to combat money and asset laundering.
Barahona and several officials invited to attend the meeting, such as the Superintendent of the Financial System, Víctor Ramírez, were of the view that the country is in a strong position regarding the prevention of money laundering.