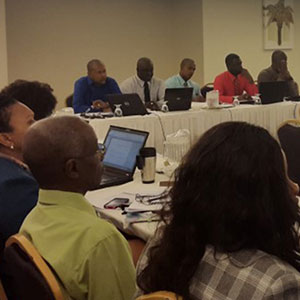 During March 21 to 24, 2016, the Financial Intelligence Unit of Barbados, in coordination with the CFATF Secretariat conducted 2 training workshops on the FATF Standards and the Mutual Evaluation Process, in preparation for the upcoming mutual evaluation of Barbados carded for December 2016.
At the opening ceremony of this important workshop, , The Honourable Adriel Brathwaite, QC, MP, the Attorney-General and Minister of Home Affairs of Barbados committed the support of the Authorities of Barbados to undertake the mutual evaluation led by the CFATF Secretariat and the regional team of Assessors. 
These workshops brought together Barbados' officials from various entities of the public sector, including the Financial Intelligence Unit, the Royal Barbados Police Force, the Central Bank of Barbados, the Financial Services Commission, the Ministry of International Business, International Transport, Commerce and Small Business Development, The Corporate Affairs and Intellectual Property Office, the Director of Public Prosecutions, the Solicitor-General's Chambers, the Office of the Chief Parliamentary Counsel as well as officials from the private sector. These representatives will form the core of Barbados' team responsible for driving the Mutual Evaluation Process.  
Participants were informed about the important changes to the FATF Standards finalized in 2012/2013 and then participated in important discussions on how to interpret the new FATF Standards and the expectations for the upcoming evaluation, including the submission of information on Barbados' technical compliance with the FATF Recommendations and the possible data, statistics and other information needed to prove the effectiveness of its risk-based approach. Participants received detailed information on the objectives and benefits of the on-site visit to Barbados and the preparation that is needed prior to, during, and following the on-site visit.