Virgin Islands Government Launches National Risk Assessment Council
Council to steer the Territory through its first National Risk Assessment exercise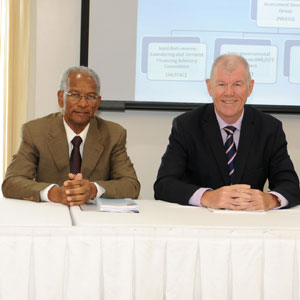 Tortola, British Virgin Islands – On April 10th 2014, the Virgin Islands took another step towards fighting the activities of money laundering, terrorist financing, proliferation financing and all forms of organised crime with the launching of the Territory's National Risk Assessment Council (NRAC).

The NRAC is a seven-member policy making body, chaired by the Hon. Premier, Dr. D. Orlando Smith, OBE, which will be responsible for all matters related to, or concerning the conduct, of the Territory's first Nation Risk Assessment exercise. Other members of this high-level grouping include His Excellency Governor Boyd McCleary, CMG, CVO, the Deputy Governor, Mrs. V. Inez Archibald, Attorney General, Dr. Christopher Malcolm, Financial Secretary, Mr. Neil Smith, Managing Director/CEO Financial Services Commission, Mr. Robert Mathavious, and Dr. Michael O'Neal.

As part of the Financial Action Task Force's (FATF) International Standards on Combating Money Laundering and the Financing of Terrorism and Proliferation countries are required to be able to identify, assess and understand their money laundering and terrorist financing risks, and put measures in place to effectively mitigate those risks. In so doing, countries must look at all sectors of their economy to determine where the greatest money laundering and terrorist financing risks lie, and identify ways in which to mitigate these risks.  

The NRAC will steer this assessment process by providing guidance on a wide range of policy issues related to the development and conduct of the Territory's National Risk Assessment, as well as provide policy guidance to address the recommendations that will be included in the final National Risk Assessment report.


The NRAC will be supported by the National Risk Assessment Steering Group (NRASG) which will have the responsibility of coordinating all relevant technical work relating to the preparation and conduct of the Territory's National Risk Assessment.  The NRASG is chaired by former Chairman of the CFATF, Mr. Cherno Jallow, QC.  Other members of the NRASG include Deputy Chairman, Mr. Glenford Malone who is the current CFATF ICRG Chairman, Ms. Simone Martin and Ms. Alva Mc Call of the Financial Services Commission, who have both been trained as Fourth Round Mutual Evaluation Assessors; Director of Public Prosecutions, Mr. Wayne Rajbansie; Financial Services Commission Deputy Managing Director – Regulation, Mr. Kenneth Baker and Director of Finance Mr. Sheldon Scatliffe; Director of the FIA, Mr. Errol George; and Detective Elvis Richards of the Royal Virgin Islands Police Force.

The National Risk Assessment process is scheduled to commence in September 2014 and be carried out over a seven month period. The National Risk Assessment will be carried out by a team of trained assessors which will include individuals from all competent authorities, governmental agencies and the private sector. Additionally, two independent external assessors will join the process in a reviewing and oversight capacity to ensure consistency and appropriateness of the methodology.

The Virgin Islands, having undergone several reviews of its compliance with international standards by various international standards setting bodies, welcomes the opportunity to conduct an internal review and assessment of its Anti-money Laundering and Countering the Financing of Terrorism (AML/CFT) regime, to identify not only the strengths, but also the weaknesses, as this will help in reforming the regime. This internal review will prepare the Territory for the evaluation of its AML/CFT regime by the Caribbean Financial Action Task Force in 2017.

In his remarks Governor McCleary stated "for many years, BVI has been subjected to a series of reviews from the various international bodies: IMF, OECD and FATF/CFATF.  The Territory has generally come through these reviews with flying colours.  I know the Premier was delighted when [British Prime Minister] David Cameron made clear in the House of Commons last September that he thought it no longer appropriate to label the BVI and other OTs and Crown Dependencies as tax havens."

Delivering the feature address at the Opening Ceremony, the Premier stated that the launching of the NRAC "is the first step in ensuring that the Territory will be able to successfully meet the FATF standards and continue to maintain the high level of AML/CFT compliance it is recognised for internationally. This initiative further amplifies the Virgin Islands' commitment to meeting its international obligations and playing its part in the global fight against money laundering, terrorist financing, proliferation financing and other types of financial crime."