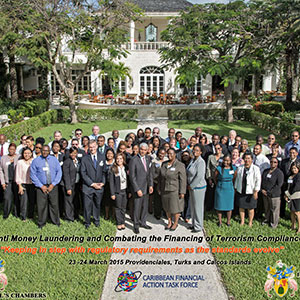 The Caribbean Financial Action Task Force (CFATF) in conjunction with the Attorney General's Chambers and the Financial Intelligence Agency (FIA) of the Turks and Caicos Islands hosted the 10th Compliance Conference: ¨Keeping in step with regulatory requirements as the Standards evolve" from the 23rd - 24th March 2015 at the Regent Palms Resort in Providenciales Turks and Caicos Islands.

Around ninety participants from several financial institutions in the Caribbean region, attended the Compliance Conference, where they had the opportunity of participating in interesting discussions and sharing ideas with other high level professionals.  The CFATF pursues the objective of achieving effective compliance with and implementation of the FATF Standards to prevent and control money laundering and to combat the financing of terrorism. In that regard, the CFATF, the Attorney General´s Chambers and the FIA are preparing the national framework for the upcoming fourth Mutual Evaluation of the AML/CFT system of the Turks and Caicos Islands, which will measure the effectiveness of the TCIs efforts in countering money laundering and the financing of terrorism.

The Compliance Conference provided an opportunity for training to all the agencies and representatives of the public and private sector that would allow them to face the challenges of the 4th Mutual Evaluation.   Participants were provided with an in-depth and practical learning experience while encouraged to participate in honest dialogue with key parties from different segments of the complex world of anti-money laundering risk management.  

The conference featured International and local experts in the Anti-Money Laundering and Counter Terrorism field who made presentations on the new Financial Action Task Force Standards; discussed Risk Assessments, Customer Due Diligence, Supervision, Challenges for the TCI and the most relevant trends and topics that all stakeholders in the AML/CFT industry need to be aware of.