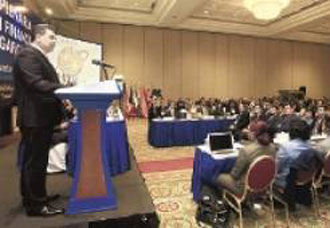 The 35th Plenary of the CFATF was opened in the country yesterday
Written by Suchit Chávez
Friday 25 May 2012

Amending the laws against acts of terrorism and against money and asset laundering, or the creation of a law to govern the sending of remittances and financial transfers, were among the requests made yesterday by the Attorney General of the Republic, Romeo Barahona, to the members of the Legislative Assembly.
The Attorney General made the statement at the opening of the 35th Plenary Meeting of the Caribbean Financial Action Task Force (CFATF), which began its round of sessions on Monday.
Barahona did not provide concrete details on the legal reforms which, in his opinion, are essential in order to combat money and asset laundering.
Barahona and several officials invited to attend the meeting, such as the Superintendent of the Financial System, Víctor Ramírez, were of the view that the country is in a strong position regarding the prevention of money laundering.
"We have challenges to tackle. Among them we can highlight the relaxing of bank secrecy, so as to facilitate investigations on supposedly suspicious activities", said Ramírez.
The President of the CFATF, Manuel González, indicated however, that the average level of fulfilment of the organisation's recommendations by the region (which covers Latin American countries and several Caribbean islands) is barely 40%. "This is absolutely unacceptable", he affirmed in his intervention during the plenary.
The Attorney General, as well as Ramírez, pointed out that the country was recently placed in position 107 out of 144 (with the latter being the highest) in the anti-money laundering ranking; however, González explained that such a report is not binding for the CFATF, which employs evaluation methodologies that differ from those of the Basel Institute, a body that formulates indices on money laundering risks.
Information coming out of the Financial Intelligence Unit (FIU) of the FGR indicates that 423 Suspicious Transaction Reports (STR's) have been received this year, although they don't all mean that money laundering offences are being committed, explained the Head of the Unit, Rolando Monroy.
Barahona stated yesterday that goods have been seized and illustrated this by making reference to the incident involving the seizure of 14 million dollars discovered in several barrels buried on the El Recolado estate (Zacatecoluca).
This seizure however, was disclosed by a man arrested for a violation at the El Salvador International Airport, when he attempted to leave with thousands of dollars without justification. An STR was not issued in that case.