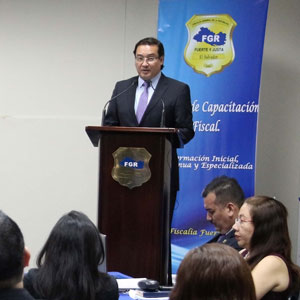 The Prosecutor General of the Republic of El Salvador, through the Financial Investigations Unit with the support of the World Bank and the Caribbean Financial Action Task Force (CFATF), conducted a National Risk Assessment Workshop from 9 to 11 June 2014 in San Salvador, El Salvador.

The Honorable Attorney General Luis Antonio Martínez González, CFATF Vice Chair opened the Workshop together with Marilyne Pereira Gonçalves and Jania Ibarra of the World Bank, emphasizing the high commitment of El Salvador to combat this scourge and comply with existing laws and regulations for that purpose, as well as to carry out monitoring of internal controls of the financial institutions.

This Workshop is the first stage of the National Risk Assessment process and was designed to assist El Salvador in the self-assessment of the risks of money laundering and financing of terrorism with the participation of a multidisciplinary team, comprised of subject matter experts from different government entities and private entities, which will carry out El Salvador's National Risk Assessment.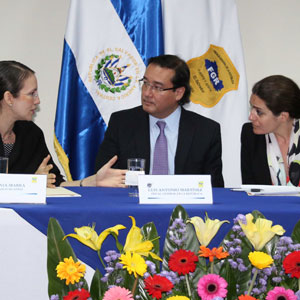 This team comprised of representatives from the Office of the Attorney-General, the Specialized Financial Investigations Unit, Specialized Anti Human Trafficking Crime Unit, Specialized Anti Extortion Crime Unit, Specialized Anti-Corruption Crime Unit, the Supreme Court, Monitoring Council of the Public Accounting Profession and Auditing, Stock Exchange, Salvadoran Banking Association, Central Reserve Bank, Attorney General of the Republic, Ministry of Economy, Financial System Superintendence, Ministry of Finance, Salvadoran Association of Stock Brokers, Salvadoran Association of Insurance Companies, National Civil Police, Financial System Banks and Money Transfer Companies.

During three days of intense activities, participants shared views and exchanged ideas, which resulted in important starting points on the risks and vulnerabilities that affect El Salvador in the field of money laundering and financing of terrorism. Likewise, they also defined action plans for the collection of the information in the different entities, project tracking and completion of the National Risk Assessment.

The CFATF recognizes the progress made by El Salvador and congratulates the authorities on carrying out this Workshop and encourages them keep up the constant efforts to combat money laundering and financing of terrorism.