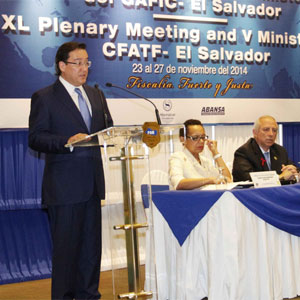 On November 26th and 27th, 2014, the Caribbean Financial Action Task Force (CFATF) held its XL Plenary Meeting in San Salvador, El Salvador where the Honorable Luis Martínez Gónzalez, Attorney General, the Republic of El Salvador, assumed the Chair of the Organization, together with Deputy Chair, the Honorable Anand Ramlogan, S.C., Attorney General, the Republic of Trinidad and Tobago, both of whom will preside over the CFATF for the period November 2014‐ November 2015.

Delegates attending the Plenary Meeting discussed topics such as the end of the third round mutual evaluation process and the commencement of the fourth round, financial inclusion and beneficial ownership issues, among others.

Progress was also made with regard to the illegal lotteries scheme typologies project and it was announced that the CFATF will undertake two more typologies projects: a) Proliferation of Small Arms and Ammunition, and b) Movement of Cash and Negotiable Instruments.

The CFATF also adopted its Voluntary Tax Compliance Procedures to avoid this type of programs being used for Money Laundering and Terrorist Financing (ML/TF) purposes.
Of note, is that six (6) countries exited the follow‐up process: Dominica, El Salvador, Guatemala, Grenada, Jamaica, and St. Kitts and Nevis.