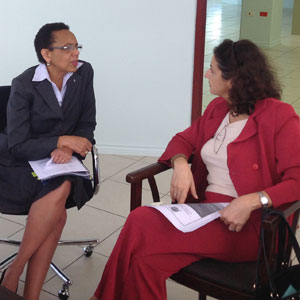 Senator The Honourable Allyson Maynard-Gibson, Attorney General and Minister of Legal Affairs, The Bahamas and Chair of the CFATF warmly welcomed Ms. Daniela Tramacere, Chargé d`Affaires, and Ms. Monica Paul-McLean, Programme Officer, Delegation of the European Union to Trinidad and Tobago, at the CFATF Secretariat.  The meeting  further cemented the strong bonds of friendship and support between two long standing partners in the fight against trans-national organised crime and the financing of terrorism.

The European Union has always been very supportive of efforts to build regional capacity in various areas and the discussions recalled the investment from the European Commission, United Kingdom and the United States during 2000-2006 when significant funds were provided for the important work of the Caribbean Anti-Money Laundering Programme (CALP) with regard to establishing the legislative and institutional framework to combat money laundering in several Caribbean jurisdictions.

Given the CFATF's desire to be in step with the global drive to take the profit out of crime, Madam Chair Maynard Gibson and Chargé d`Affaires Tramacere explored the progress of the current European Union/CFATF three year Euros 1.2Million project to strengthen regional capacity, through the Accreditation and Training Programme for Financial Investigators, Analysts and Supervisors.

This new initiative is a natural corollary to the CALP as Financial Investigators and Analysts trained by the CALP are now employed as Heads and senior staff of some regional Financial Intelligence Units (FIUs) and at other establishments around the Region including the CFATF Secretariat, where the current Law Enforcement Advisor is overseeing the operations of the Heads of FIUs Forum.

Financial investigation and analysis are important law enforcement techniques which can generate intelligence about the activities and patterns of criminal groups and provide added value to criminal investigations.

The CFATF Training and Accreditation Programme will entail the delivery of five (5) training modules for the benefit of 207 Financial Investigators, Financial Analysts and Supervisors at regional FIUs.

The aim of the project which is funded by the European Union, is to improve the quality of financial intelligence and information through effective analysis and data matching, improve the quality in the filing of suspicious transaction reports, encourage the use of financial investigative tools, and enhance the exchange of financial information and intelligence and cooperation, as standard activities in the investigation of serious crimes.

Madam Chair Maynard Gibson noted that the Accreditation and Training Programme is testimony to the political commitment at the highest levels across the Caribbean Basin Region, to take the profit out of crime, by enhancing and strengthening the human and operational capacity of FIUs, which are at the heart of the national Anti-Money Laundering and Countering the Financing of Terrorism (AML/CFT) architecture in CFATF member jurisdictions.