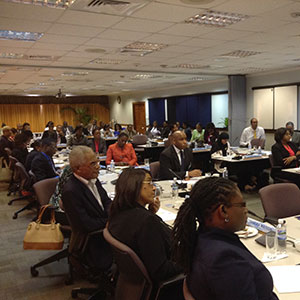 One important aspect of the Mutual Evaluation Programme is the need to have qualified and experienced assessors and in that sense, the CFATF trained its third generation of Assessors in Antigua and Barbuda, during the week of the September 15‐19th 2014. (Training sessions were previously held in Jamaica and El Salvador).

Also, as its first Mutual Evaluation during the Fourth Round approaches (Trinidad and Tobago On‐Site Examination to take place January, 2015), the CFATF delivered Pre‐Assessment Training in Jamaica during September 25th and 26th 2014.,The training workshop comprised a variety of modules which explained the Mutual Evaluation Process, expectations with regard to participants, meetings, documents, among other things, and was attended by a wide cross section of the Jamaican Public and Private Sectors. Our thanks to the Central Bank of Jamaica for their help and hospitality with organizing and hosting the training.

During October 8th‐10th 2014, the CFATF also delivered Standards Training highlighting key changes in FATF revised 2012 Recommendations in the Cayman Islands. The CFATF would also like to thank the Attorney General's Office for their generosity and hospitality in hosting the training. Among participating authorities and private sector representatives were the Cayman Islands Monetary Authority (CIMA), law enforcement authorities, the Financial Reporting Authority (CAYFIN), (Cayman Islands' Financial Intelligence Unit (FIU) and an assortment of Financial Institutions (FIs) and designated Non‐Financial Businesses and Professions (DNFBPs).