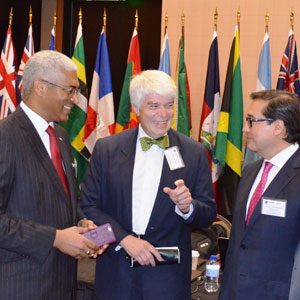 Antigua and Barbuda and Belize exited the follow-up process. Belize and Grenada exited ICRG monitoring demonstrating their commitment in the fight against Money Laundering and Terrorism Financing.
On May 27th and 28th, 2015, the Caribbean Financial Action Task Force (CFATF) held its XLI Plenary Meeting in Port of Spain, Trinidad, which is the permanent seat of the Organization.
Delegates attending the Plenary Meeting discussed topics such as the challenges of the fourth round, financial inclusion, third party reliance among others. Technical assistance opportunities for our Members were also discussed through the Donors Forum.
The CFATF also adopted its International Cooperation Review Group (ICRG) Procedures based on previous ICRG and Plenary decisions, for ease of reference and greater transparency, and updated its Mutual Evaluation Procedures to reflect changes in timelines and the possibility of joint assessments with Members which are both a Member of the CFATF and a different Financial Action Task Force (FATF) Style Regional Body.
Of note, is that two (2) more jurisdictions exited the follow-up process: Antigua and Barbuda and Belize. Belize and Grenada also exited enhanced monitoring by the CFATF ICRG. This attending to their progress in compliance with FATF standards.