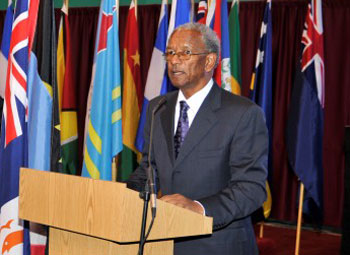 In welcoming delegations from the twenty nine members of the Caribbean Financial Action Task Force to the Multipurpose Sports Complex in Road Town, Tortola, Virgin Islands, Nature's Little Secrets, Dr. The Honourable D. Orlando Smith, OBE, Premier of the Virgin Islands noted that
"My Government and the people of the Virgin Islands are indeed pleased to be hosting the 36th Plenary of the CFATF. The Virgin Islands is a founding member of the CFATF and we value and cherish our relationship with the organisation. We recognise the important role the CFATF plays in the region in keeping with the organisation's main objective of achieving the effective implementation of, and compliance with, established standards with respect to detecting and preventing money laundering and terrorist financing in our individual jurisdictions and in the region as a whole."

By keeping to this fundamental objective, the CFATF has over the years demonstrated its pivotal role as a significant partner in the global fight against money laundering, terrorist financing and other forms of financial crime. It is therefore imperative that we continue to play our individual and collective roles in fostering bilateral, regional and international cooperation by adhering to the established standards for effectively combating money laundering and terrorist financing and all other related criminal activities.

In keeping with the Chairman's Work Programme 2012-2013 and cognizant of the critical need for Technical Assistance and Training in assisting jurisdictions to rectify the deficiencies identified in the Third Round Mutual Evaluation Reports and to fully prepare for the Fourth Round of Assessments, the Secretariat will prepare a Master Plan based on the needs of all Members which will be utilized in a formalized Donor's Forum to match the needs of Members with the resources available from the donor countries and their partner organizations.
For the full text of Dr. The Honourable D. Orlando Smith in ADDRESS BY DR. THE HON. D. ORLANDO SMITH, OBE, PREMIER OF THE VIRGIN ISLANDS