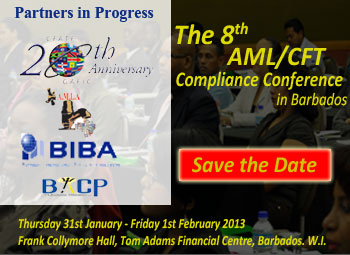 The CFATF in conjunction with the Barbados International Business Association (BIBA), Anti Money Laundering Authority (AMLA) and the Barbados Association of Compliance Persons (BACP) takes its public education and awareness raising project to the Frank Collymore Hall, Tom Adams Financial Centre, in Barbados on Thursday 31st January and Friday 1st February 2012.
This eighth AML/CFT Compliance Conference is supported by the Government of Barbados, through its Anti Money Laundering Committee, the Financial Intelligence Unit and the Central Bank of Barbados.

It will be the first in a series of similar conferences to be held around the Caribbean Basin Region in 2013 which the CFATF is organizing as part of its AML/CFT Education Road Show, given the new global landscape that is being devised following the Revised FATF Recommendations which were published in February 2012, and the new AML/CFT Methodology that is in the process of being finalized for use as the tool for assessing compliance during the Fourth Round of Mutual Evaluation Missions.

All countries in the Region need to prepare for this new world order and both the public and private sectors need to work hand in hand to ensure that the national reputation is protected and the consequences of low or non compliance are avoided.
The Region also needs to be galvanized into action on new issues such as the Foreign Account Tax Compliance Act (FATCA), the requirements, obligations, timelines, the dangers of non preparedness or non engagement and whether there should be a national or regional approach to dialogue with the United States Inland Revenue Service or both and who should take the lead.

The CFATF as part of its twentieth anniversary Work Programme has placed the highest priority on public education, awareness raising and capacity strengthening initiatives which are designed to bolster the ability of the Caribbean Basin Region to take the profit out of crime.