The "CFATF Procedures for the Fourth Round of AML/CFT Mutual Evaluations" (CFATF Procedures) which were drafted based on the Universal Procedures for FATF/FSRBs (Universal Procedures), were approved by the CFATF May 2014 Plenary. Since the approval of the CFATF Procedures, there have been several amendments to ensure and reflect consistency with the Universal Procedures.
The purpose of this document is to provide clarity and an overview of the CFATF Procedures which also includes important documents generated and/or utilized by the Secretariat throughout the process and does not supersede the details of the CFATF Procedures approved by Plenary and the FATF ICRG Procedures for the 4th Round of Mutual Evaluations.
For this reason, specific questions regarding the applicability of a particular step or practice outlined within should be clarified with the CFATF Procedures, FATF ICRG Procedures and with the CFATF Secretariat.
The Glossary of terms and acronyms used in this document are the following:
MER: Mutual Evaluation Report
TCQ: Technical Compliance Questionnaire
TC Annex: Technical Compliance Annex
Scoping Note: document that identifies areas of lower and higher risk that need reduced or increased focus for the onsite visit.
Sub-WGFI: Sub Working Group on FATF Issues.
WGFI: Working Group on FATF Issues.
ICRG: International Co-operation Review Group
POPR: Post-Observation Period Report
FUR: Follow-Up Report
OVERVIEW OF THE CFATF MEVAL PROCESS
With regard to the Mutual Evaluation process, the flowcharts have been divided as follows:
I. Stage I: The Pre-Onsite Process
II. Stage II: The Post-Onsite Process
I. Stage I: The Pre-Onsite Process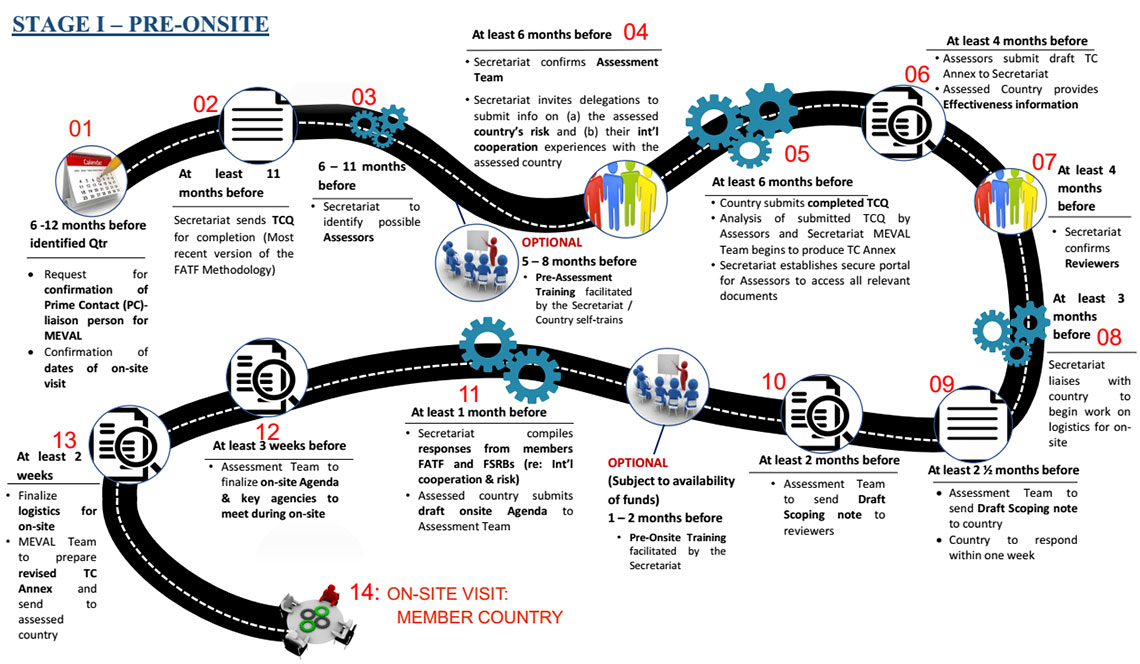 II. Stage II: The Post-Onsite Process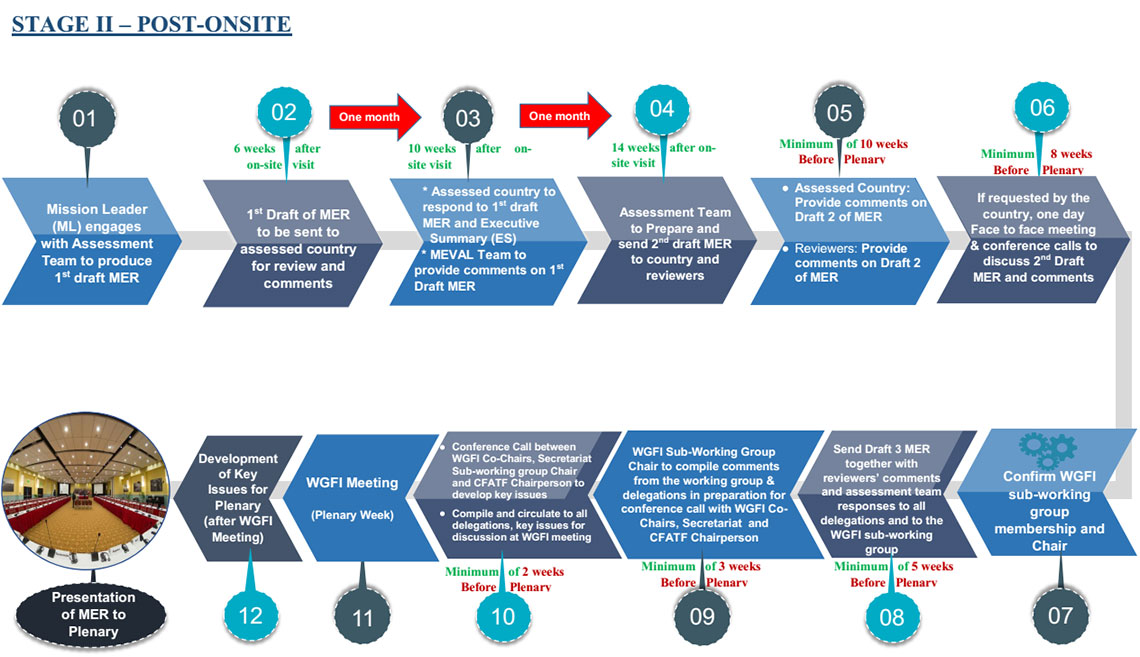 FATF ICRG PROCESS FLOWCHART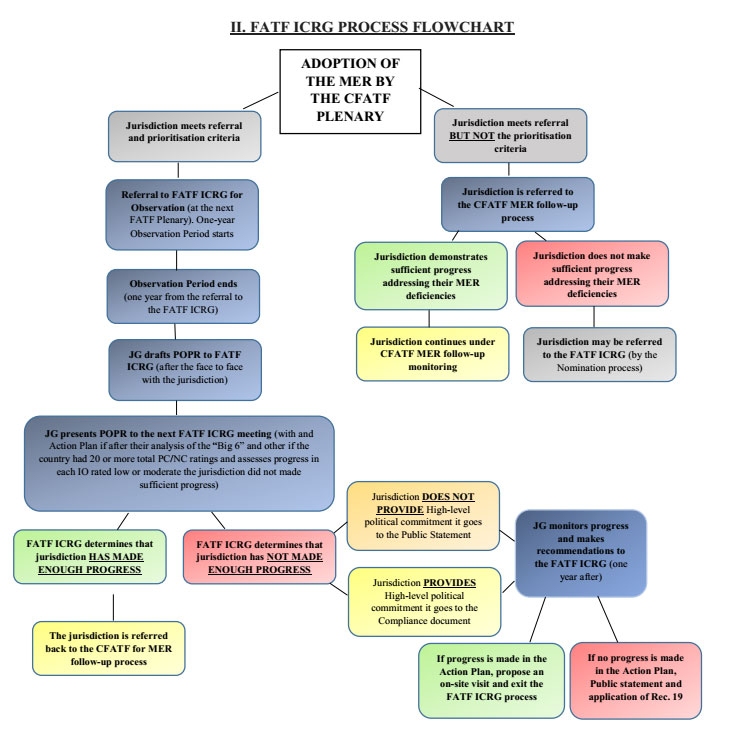 CFATF FOLLOW-UP PROCESS FLOWCHART
REGULAR FOLLOW-UP
ENHANCED FOLLOW-UP
REGULAR FOLLOW-UP
ENHANCED FOLLOW-UP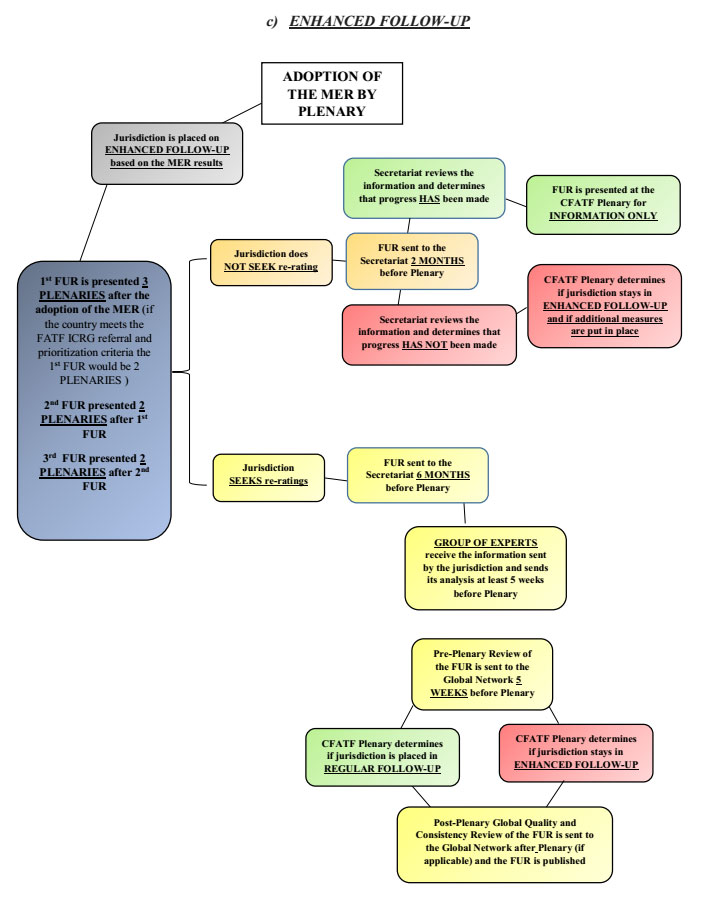 Download this article 
CFATF FLOWCHARTS: MER, ICRG and FOLLOW UP March 2018
Related documents:
CFATF Procedures for the Fourth Round of AML/CFT Mutual Evaluations (Updated 14 March 2018)
FATF Recommendations 2012 (Updated February 2018)