The Honourable Basil Williams, SC, MP Chairman-in-office of the Caribbean Financial Action Task Force (CFATF) and Attorney General and Minister of Legal Affairs of Guyana visited the office of the CFATF Secretariat located in Port of Spain Trinidad on 13 March 2018 where he met with the Executive Director, Ms. Dawne Spicer, Deputy Executive Director, Carlos Acosta and staff of the Secretariat. Chairman Williams expressed his pleasure at being able to incorporate the visit to the Secretariat following his representation in a matter on behalf of the State of Guyana at the Caribbean Court of Justice.
During the visit the Chair engaged the Secretariat staff on the vision of the CFATF and commended the hard work of the Secretariat in fostering regional implementation of countermeasures to address Money Laundering, Terrorist Financing and the Financing of the Proliferation of Weapons of Mass Destruction.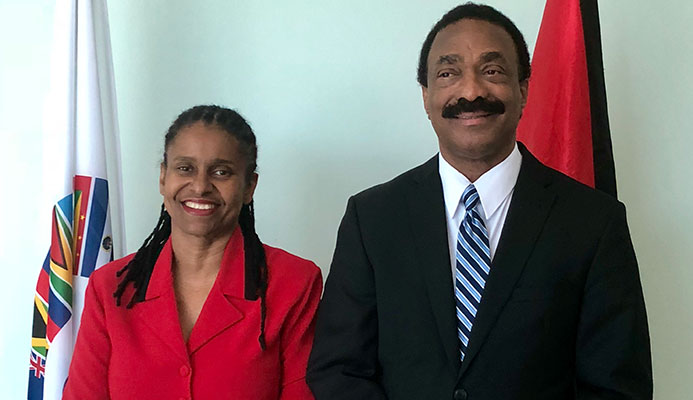 Chairman Williams specifically noted that 'many of our regional economies have been deflected by the underground economy being the proceeds of crime from the five wars of globalization - trafficking in persons, trafficking in narcotics, trafficking in weapons, money laundering and terrorist financing'.

He noted the efficient work done by the Secretariat staff and urged them to redouble efforts to assist CFATF Members.
Chairman Williams will preside over the upcoming CFATF Plenary in Trinidad and Tobago during the period May 27-31, 2018. At this time, Chairman Williams will spearhead the ongoing anti-money laundering and countering the financing of terrorism work of CFATF's twenty-five Member countries.
For more information on the work of the CFATF visit www.cfatf-gafic.org