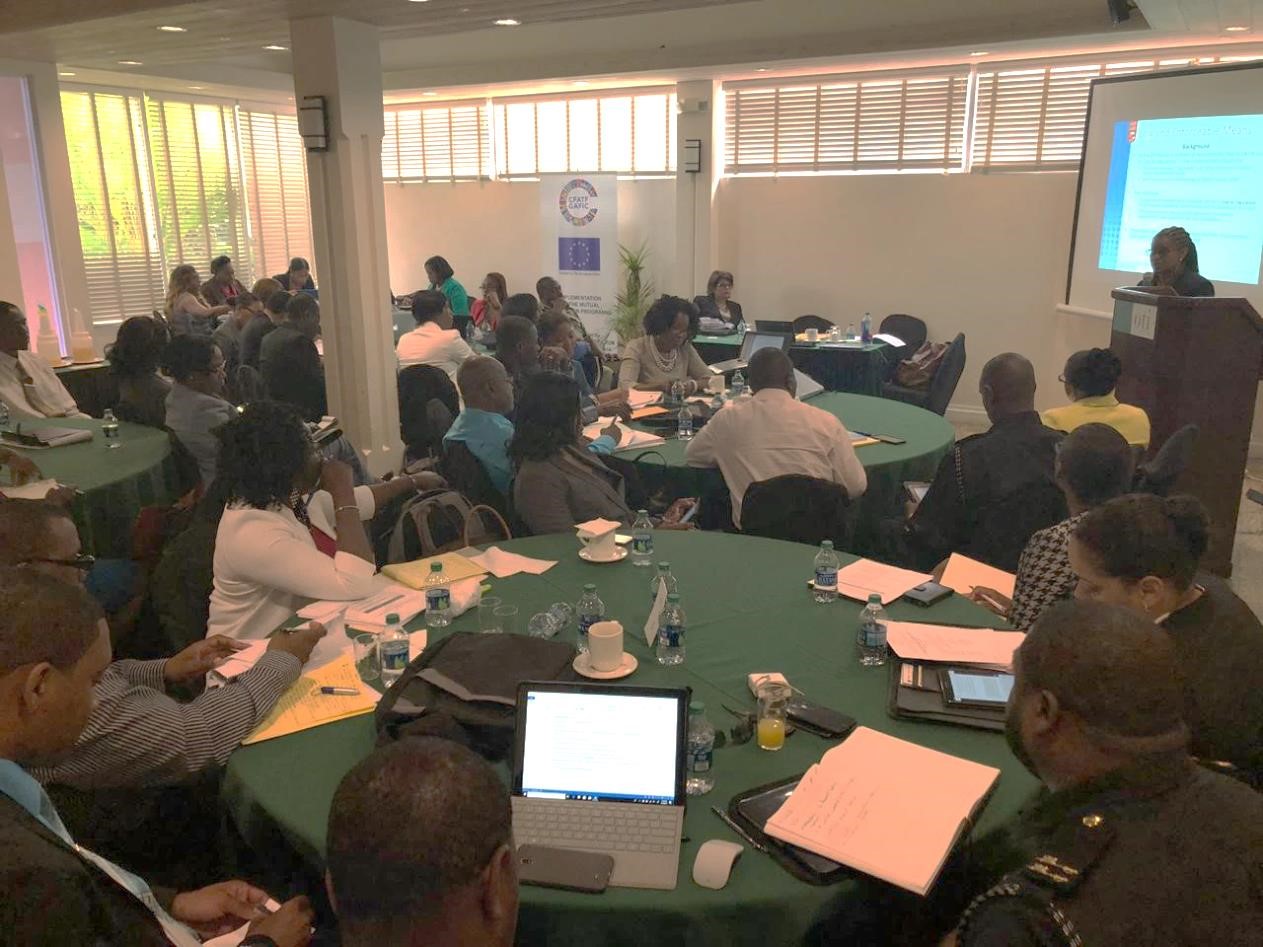 St Kitts and Nevis's training audience listens attentively while Ms. Dawne Spicer, Executive Director CFATF delivers AML/CFT guidance.
Over forty targeted professionals from various agencies of the Legal, Law enforcement and Financial sectors of St Kitts and Nevis received Standards Training from the Caribbean Financial Action Task Force (CFATF) during the period 19th to 21st March 2019. The training was delivered through the Implementation of the Mutual Evaluation Programme which is funded by the European Union.
The initiative was aimed at providing an understanding of the Financial Action Task Force's (FATF) forty (40) recommendations and is intended to help countries develop the expertise necessary for their compliance with the international requirements to combat Money Laundering and Terrorism Financing.  This event is one of a series of trainings and seminars aimed at assisting CARIFORUM Member States in preparing for their Mutual Evaluations, which are peer-to-peer assessments. One of the basic components of Mutual Evaluations is to ensure that the legal framework is in place and in addition that it is effective according to the FATF's requirements.
The sessions were facilitated by staff of the CFATF Secretariat; Executive Director Ms. Dawne Spicer, Deputy Executive Director Carlos Acosta and Financial Advisor Joanne Hamid. The organization of the sessions was a collaborative effort with the Ministry of Justice and Legal Affairs and the Financial Services Regulatory Commission St. Kitts and Nevis.
For more information about the Project 'Implementation of the Mutual Evaluation Programme' please contact the CFATF 11th EDF Office at Andrew.frection@cfatf.org  and request your e-copy of the Quarterly 11th EDF Newsletter.