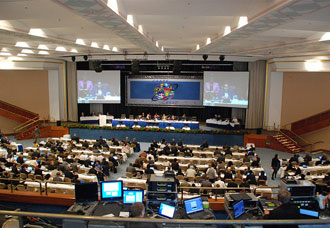 Please be advised that the CFATF will be hosting its XXXV Plenary Meeting at the Sheraton Presidente Hotel San Salvador, in San Salvador, El Salvador, during Monday 21st to Friday 25th May 2012.

All delegates wishing to attend this meeting must register via this website. There are however specific entry requirements which vary from country to country. These requirements are listed here (Visa Entry Requirements). Please view these requirements before registering.
You may register to attend the CFATF XXXV Plenary by clicking here (XXXV Registration).
To register with the Sheraton Presidente Hotel San Salvador you must complete the hotel registration form and send it via fax to (503) 2283-4088 or email to manuel.vega@sheratonpresidente.com.svThis e-mail address is being protected from spambots. You need JavaScript enabled to view it . Please download the Sheraton Presidente Hotel San Salvador registration form by clicking here (Hotel Registration Form). DEADLINE FOR HOTEL REGISTRATION: MAY 8TH 2012