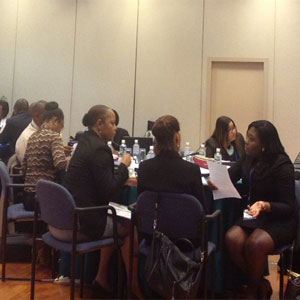 During the week of January 20th to the 24th 2014, the Central Bank of Jamaica in Kingston, Jamaica, hosted the first Caribbean Financial Action Task Force (CFATF) Assessor's Training of the year. The Training was directed at representatives from nine (9) countries, including Antigua and Barbuda, Grenada, Jamaica, St. Kitts and Nevis, St. Vincent and the Grenadines, The Bahamas, Turks and Caicos, Trinidad and Tobago and Virgin Islands, who were nominated on the basis of their financial, legal or law enforcement expertise, as well as their previous experience in Assessments and/or with the previous FATF Methodology.

During one intense week, topics such as risk and context, assessing technical compliance and effectiveness, data and statistics, effective interviewing, among others, were covered.

But not all was work, participants also enjoyed Jamaican hospitality and tasted many of its delicacies, including curry goat and patties. They were also invited to attend a local theater for a delightful comedy. Our thanks to the Central Bank of Jamaica.

The CFATF will continue to roll out similar training seminars, to ensure a cadre of adequately trained, experienced Assessors for the Fourth Round of Mutual Evaluations.