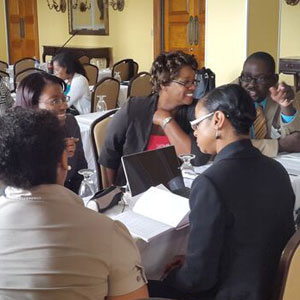 On the occasion of preparation for the upcoming 4th Round Mutual Evaluation, the CFATF in coordination with the Attorney General of The Bahamas, held pre assessment training for The Bahamas on July 1st and 2nd, 2015 at the Super Clubs Breezes Resort Hotel in Nassau, The Bahamas.
The training was attended by approximately fifty officials, mostly from the public sector and included staff from the Office of the Attorney General, the Ministry of Finance, the Ministry of Financial Services, the Financial Intelligence Unit, Customs Department, Immigration Department, the Central Bank, the Securities Commission, the Compliance Commission, the Insurance Commission, the Gaming Board, the Police, the Defence Force and representatives of the private sector and DNFBPs.
As part of the training, attendees participated in a workshop, where they had the opportunity to exchange ideas on the implementation of standards and discuss possible opportunities for The Bahamas to demonstrate the effectiveness of the AML/CFT system. Issues related to the site visit during the Mutual Evaluation process were also discussed.